It's been an insane fifteen months since we started Cairns Writes, particularly since the new year. I'm proud of what we've accomplished and what we are going to achieve going forward and wanted to share just a few of those things here, before Scarlet pushes her way back in and gets all, like, rowdy.
2014 so far:
I've added a number of regular things to my plate. Because, you know, why not?
I've begun podcasting. I'm reading Life Without Tumblr, and posting it every Saturday night on the blog, on iTunes and on YouTube. As I get better at it, I'm becoming keener on the idea of recording my books. However, that's a little way in the future at the moment.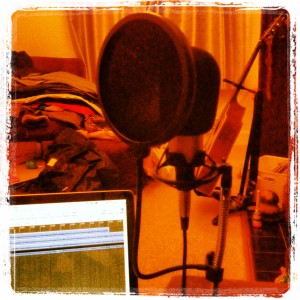 I'm posting Life Without Tumblr on Wattpad every week. It's a different forum and a very different audience to the one I've met so far. It's early days, but I'm enjoying the interactions I've had on there as well as some of the stories.
I've been making my own pins and delving deeper into Pinterest. I'm not sure I'm adding that much value yet, but it's something I enjoy and makes some of the more admin-based tasks easier to stomach. I've also been creating some secret boards for when I release certain books, which is exciting in a sad, geeky sort of a way.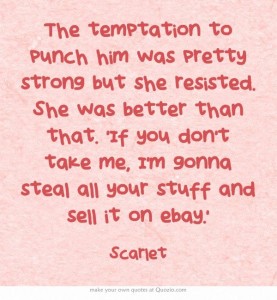 I've written a bit. Around three novels since the turn of the new year, all of which are better than what came before, which is a relief!
Perhaps most excitingly, I've started my publishing run for 2014. We're aiming to have something come out most months of this year. We want to get as much of my writing out there as possible, and it started on 15th March with the fourth part of A Game of War, optimistically titled, Breathing in Space.
Below is an excerpt (spoiler alert if you haven't read parts 1-3 yet) and the cover. It is the fourth in the series and the first is available by signing up to the newsletter. The others are on all the big ebook retailers for a wallet-busting 99 cents or pence.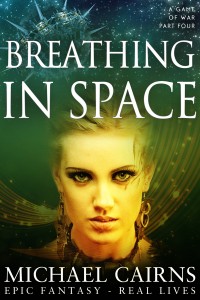 The warning light had been flashing for a couple of hours. Each time she came back to herself, it was that much harder to breathe. Stem was in the pilot seat, head resting to one side, eyes half-closed. 
They were drifting, breathing vapours. Close to death, and still so far from earth. Would she feel it, the point when her body gave up, or would she just stay on the spiritual plane forever, searching? 
She closed her eyes and slipped free of her body, and the Vale. The stars glittered around her and she forgot the fear and the heaviness in her chest. Life lapped at her like waves striking a beach, a universe of souls vibrating and being. But they were too far away!
It was like the beach just kept getting bigger, the sea forever out of reach. She picked a new direction, traveling miles in seconds, only to be met by the same quiet murmur. 
She came back to herself and glanced one more at Stem. His mouth hung open, his eyes closed.
"Stem? STEM."
She pushed herself up from the cot, then sunk back, gasping and coughing. Her mind was drifting and she found herself out of her body again, looking down at her pale, skinny form. Her hair had gone pale, and her braids were fraying. 
She rushed from the ship…
What's to come:
It's tempting to list them… ow, what the hell.
April 15th – A Game of War part five – Escape
May 15th – A Game of War part six – Gateway to Earth
Mid July – The Assembly book two – The Story of Eris
Mid July – The Assembly book one rerelease with new cover – The Spirit Room
September – the complete Season One and Two of A Game of War in print!
Christmas – The collected Life Without Tumblr, ebook and print.
Christmas – The Assembly book three – The Way Home
Phew. I wonder whether we'll manage it, but I'm convinced we will. We have to, because I've got another six books waiting to be edited and unleashed upon the world

Speaking of which… I also received my first print book through the post, courtesy of the fabulous Createspace. This was, without doubt, one of the highlights of my short publishing career to date. Within a day we'd decided to get new cover art done…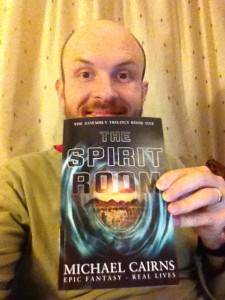 Finally, a quick word about my current work in progress. I'm loving writing it, because I've deliberately done a few things very differently this time around. It's a cyber-punk/post apocalyptic action-adventure story. It's told in the first person, from the point of view of three very different people. One is an assassin, only he is to assassins what Robocop is to the police force. The next is an ex-prostitute, who may just be the second coming, and the third is a failed theology student turned space-ship pilot. The Cleansing is coming and the fate of every person on Earth is at stake. Of course, the only people left on Earth live in the city, and the city's a dangerous place to be at the best of times…
It's also exciting because this first book will be a freebie. Once this full length is done, I'm going to write episodes, similar to A Game of War only perhaps twice the length. It's also far grittier and a little more philosophical. I'll keep you posted on that, but I think it might be quite good. Of course, I've got to edit my zombie versus assassin trilogy first and get that out there…
Right, back to work.

Scarlet returns on Monday in her longest and most exciting adventure yet. I hope you'll join her, Martin and few surprise guests.
I'd also love to hear your plans for the year, so please leave a comment below.