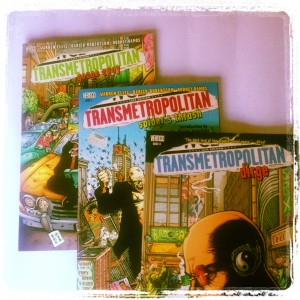 Warren Ellis, the fabulous comic author, in particular the creator of Transmetropolitan.  I love his ability to combine things in one story that simply shouldn't work. The skill I am most jealous of though is the way in which he can bring humour into pretty much every frame yet never detract from the story that is playing out, or seem cheesy or over-the-top.
His comics blend so many different factors that all demand an emotional response; yet never seem forced or shoehorned in for the sake of it. His characters are incessantly railing against all manner of inequalities and wrongs yet at the same time will exhibit views both shocking yet head-shakingly right. It is impossible not to become invested in them. Whilst this is going on, they are also cracking obscene jokes and using appalling yet casual violence, the kind that would get you banned from TV long before you got anywhere near the censors.  Surrounding these actions and opinions will be lives that can have tender moments, horrible sadness and wonderful highs, all of which again endear and connect them to you.
Throughout all of it, Warren will bring the funny; visually, through story and situation and through the characters themselves. I think someone may have said in their introduction to one of his graphic novels that secretly everyone would like to be a Warren Ellis character. They were right. And if they didn't say it, then I just did.