Hi Folks,
We're having a brief interlude in Scarlet's Web today because I was asked by the lovely Jonathon Fletcher to participate in a writing process blog hop.
Below are four questions and my answers about my writing process. Beneath them is a link to Jon's blog where you can read his answers to the same questions. I've tagged another great writer, Kela Lewis-Morin and will add a link to his blog when I have it later. Please check them out once you've read this.
Without more ado…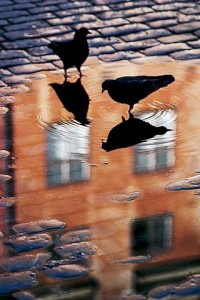 1. What am I working on?
I've been working on the next story for the blog. The Life Without Tumblr series has lasted six months and come to almost a hundred episodes, so it's time for something new. It's tentatively titled The 13th Rose.
Every morning, the Flower Seller leaves his chambers in the Flights and travels to earth. He sets up his stall on Embankment and waits. Every day he meets his one customer, to whom he sells a bunch of twelve red roses and gifts one extra. His subject has already been chosen for him. His task is to pull that person away from the edge and save their soul, regardless of what state it's in. For some the choice means life and death, for others, lies and deceit.
But this week isn't going well. If he doesn't hit his quota, he'll get banished and what's worse, the Father is coming to visit on Sunday.
One by one our characters are introduced and one by one, they make their choice. Come the end of the week, everything changes and the world as we know it will cease to exist. Who will still be standing to take their place in the wreckage?
It's part character study, part zombie apocalypse, part fantasy. The usual mash up and so far, great fun to write.
In terms of editing, I'm mid-re-edit on The Spirit Room while the third book in The Assembly trilogy is with my editor. I'm tidying up the language and refining it more than anything. I'm also formatting the ebook and print editions of A Game of War seasons One and Two in time for late May release.
2. How does my work differ from others in my genre?
Hopefully the answer above gives you some clues to this one. My favourite reading genre has always been fantasy first and foremost, with science fiction and horror close behind. My favourite TV and movie genres have always been Urban Fantasy and Zombies/Horror. I'm a huge comic fan and have been all my life.
These genres all fit together so well, I couldn't figure out why they shouldn't be combined. So my Epic Fantasy assassin trilogy, 'The Assassin Cycle', features zombies, and my epic fantasy '1000 Hours' features characters with super powers. My modern-day-magician series, 'The Broken Circle' has goblins running around London and The Assembly Series features superheroes, alien invasion and the world's greatest magicians.
Aside from the genre-splicing, I'm hooked on characters and always have been. My aim is to create characters within fantasy that affect the reader as much as those in any other genre, something I feel has been missing in many of the books I've read growing up. I'm not sure I'm there yet, but I'm working hard on it.
3. Why do I write what I do?
I write because I love to write and love to tell stories. I write what I write because I love the freedom and the escapism. Growing up, fantasy gave me new worlds in which to exist; an escape from real life and all it entailed. I get that in most books I read, but fantasy was always an especially exciting prospect because you didn't know where you were escaping to. Plus, of course, dragons. And swords. And zombies.
Why content yourself with writing 'person A travels to place 1, meets person B on the way and they fall in love', when you can write 'person A travel to place 1, finds the sword of Danelar, meets person B who turns out to have magic powers. Together they defeat the Witch King of Shail and fall in love'?  Maybe it's just me, but I know which I'd rather read and write.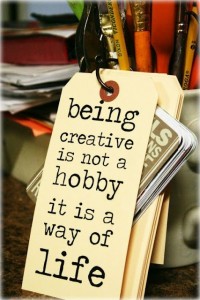 4. How does my writing process work?
I've been working on this a lot in the last year or so. I've read countless blogs that tell me to plan and outline and so forth, so I've tried, in various ways. However, my basic process has stayed the same. I sit at my computer, open a new Scrivener project and start typing. I will have nothing in my brain. In fact, the emptier it is the better.
By the end of the first page I'll have a character, maybe a place and some questions.
By the end of the first chapter, I'll have the answers to those questions in my head and lots more I can't answer.
By about five thousand words, I'll have a world. My protagonist will have an aim, some baggage and if they're really lucky, some friends. They'll also have an antagonist.
By, hopefully, twenty to thirty thousand words, I'll have an ending in my head. I'll also know whether the book is standalone or part of a series/trilogy.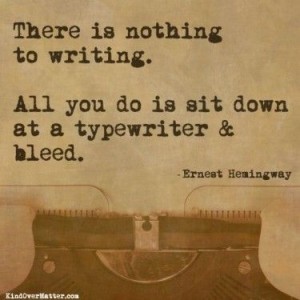 That's the process. From there till the end I put my head down and write. I try to write my first draft as quick as possible in order to stay in the flow, so I'll average 25-30,000 words a week and bash it out in three to four weeks.
I then put it in the drawer with the rest and let it sit. When I come to edit, I read it cover to cover. If it still excites me, I begin to pull it apart and make it work. If it doesn't, it goes in the virtual bin of 'useful things I might use one day but probably won't but can't bear to throw away'. 🙂
I don't ever take a break from writing, so in the last fifteen months, since I started writing seriously, I've clocked up around twelve books and a bunch of novellas and short stories. The real positive about this is that it stops me being too precious about my work. I don't feel I have to use everything and it has to really stand out to make it to the editing stage. Now if I only had a bit more time…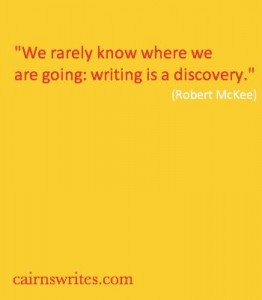 I hope you've enjoyed a little dip into my writing life, do pop over now and check out Jon's blog on GoodReads for more writing related goodies. It's interesting how different our processes are to achieve the same end goal.
I've tagged @KelaLewisMorin…link to his post on Deviant Art coming later.
Thanks so much for reading. Please leave a comment if you have any thoughts on my process or would like to share your own. Scarlet's Web will return on Wednesday, when she'll finally meet the Council…