The weekend is here! Work is finished and it's time to celebrate, and how better than with Transmetropolitan, by Warren Ellis? Escapism mixed with some real messages, it makes me laugh and think at the same time and gets me suitably inspired for the weekend of creating ahead.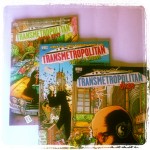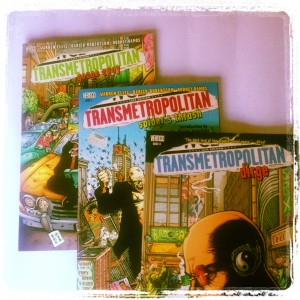 Synopsis:
Spider Jerusalem is a journalist, and not one of those namby-pamby research on the internet ones either. He gets to the heart of the story, often literally and is afraid of no one and nothing. He operates in 'The City', a mish mash of humanity, based some-time in the future and a combination of all the most exciting places you've ever been. What's important? The truth, without compromise.
Why I love it:
I spoke about characters earlier in the week, so I won't mention the wonderful development that Ellis brings, oh so subtly to his main protagonists. I also spoke about plot development so won't mention the slow burning story that grows beneath the monthly helping of humour and righteous anger.
So, to pick something else that made this comic so successful, I'll focus on the sheer creativity and prescience present in every issue. It's easy when you are falling in love with characters and trying to figure out the plot, to overlook the many small touches that populate the best comics. With a comic like Transmetropolitan, where the world is ripe for invention, Ellis manages to be endlessly original whilst keeping it grounded in something that feels horribly like our reality. From the 'makers' present in each flat (and the different available models, based on how rich you are), to Spider's cat, sorry 3 eyed mutation that it is, there are a wealth of details that enrich and realize the world. Ideas, such as having physical aspects of other cultures medically embedded come very close to real life and, you feel, can only be a short time away. This grounding of science fiction makes the story that much more powerful and relevant, despite the insane antics that happen within it.