By Tuesday I've woken up a little, and hopefully started writing as well as doing my day job of teaching. I'm still on the hunt for escapism, but I can deal with something a bit closer to my own reality. I also want to read something that will inspire me and get my own creative juices flowing. I find myself endlessly inspired and taken away in equal parts by Sandman, by Neil Gaiman.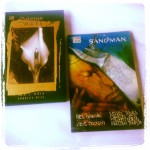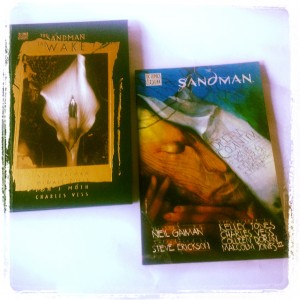 Synopsis:
The greatest aspects of human life (death, delirium, desire etc) exist as people, the family of the Endless. One of them, Dream, is a bit rubbish when it comes to women, has a deep and all-powerful sense of duty, and has been magically captured in a basement of an old house.
Once again, forgive me for the rather brief set-up, but it's either that or a couple of thousand words.
Why I love it:
In a blog a few months ago, I tried to explain what it was about Neil Gaimans' writing that I found so compelling. Rather than repeat that, I thought I'd mention the wonderful humanity that can be found in his characters. It's often easy to forget someone's motivation when you need them to do something for you in a story. Their character changes just enough to support where you want your plot to go and onward you march. In my experience, most people, whilst happy to change in the privacy of their own mind, will often stick obstinately to a decision or path when interacting with others. Also, when their key values or beliefs are threatened, they tend to blunder on, at least at that present moment. The characters in Sandman are just like that. They piss one another off, and act stupid and selfish and all of those things that people do. Despite the other-worldly nature of the comics, the people who inhabit them are entirely real, and compelling.