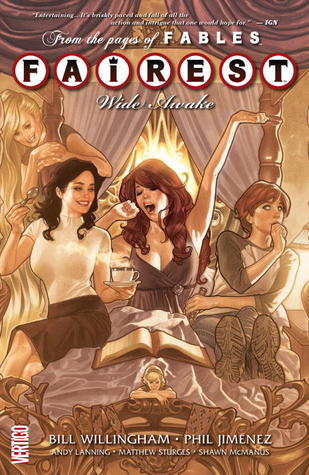 Does this man never run out of ideas? I consider myself a fairly creative person, and I write a lot, but Bill Willingham creates at an astounding rate, and happily, this latest addition to the Fables canon, is top notch.
This one combines the stories of Sleeping Beauty and Ali Baba, along with a snippy and somewhat tricksy, Djinn, to great and hilarious effect. It covers all the things you expect from a good Fables stories.
The characters are wise beyond their humble beginnings, sharing wisecracks and insults, the women are strong willed, strong minded, and never averse to taking control, the art is stunning and drives the story on, and the story itself is compelling and filled with twists and turns.
I love Fables because it never takes the easy route, or goes for the obvious choice. This story is no different, zigging when you expect it to zag, and throwing the heroes into all sorts of scrapes.
If you read Fables, you won't be disappointed with this, nor with the follow up, written by a different author, and in a very different style, telling the tale of Rapunzel in a very different way to the recent Disney movie!
If you don't read Fables, then this is an excellent introduction. It captures a great deal of the magic and atmosphe