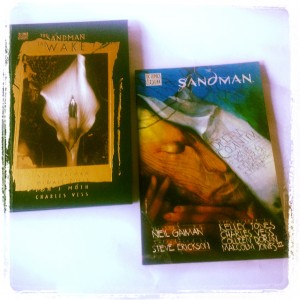 Let's take Neil Gaiman. I think of him like chocolate. You could blindfold me and give me 10 different types of chocolate and I could recognise the Cadburys every time. Once I'd taken the blindfold off, I think I could pick his writing out pretty damn consistently. Why? Well, therein lies the magic, the illusive mystery of great writers.
For me, it is the atmosphere of Neil's books that always stands out. His writing has an almost wistful air, but is still striking. With very few words he conjures a sense of knowing that I think comes from his deep appreciation for every writer who has come before him. Without ever short-changing, he expects the reader to know 'the rules' and share at least some of his love of story telling. This allows him to almost borrow a sense of long ago, of stories past in which to tell his own tales. It is this atmosphere that makes his writing so magical to read.
I'm not sure that I've done justice to what he does and I'm also concerned that I've suggested that he doesn't do his own work. That is in no way accurate. It's just that you can taste and smell his books.  The flavours and scents, whilst being highly original, always have a faint, comforting air of familiarity about them. And just to be clear, this is a good thing.