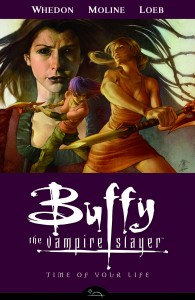 This series goes from strength to strength and is a worthwhile addition to the Buffy canon.
To begin, a brief outline. Following the ending of Buffy on TV, Joss Whedon did a whole bunch of different things, including writing a comic called Fray, a futuristic take on the slayer. In this graphic novel, the fourth volume of collected comics from season 8, Buffy gets sent through a portal and winds up in the future, first fighting against, then fighting with Melaka Fray, said future slayer.
It's rare that the magic created on TV through the combination of excellent scripts and perfect actors is successfully replicated in another format, as the plethora of Buffy books and comics that were released whilst the show was on-air demonstrated. However, Whedon, along with Karl Moline, get it just right. The dialogue is as idiosyncratic and effective as ever, the fights are just as good, only bigger, and the funny is still brought in a big way.
I found myself reading it out loud, trying to impersonate the actors and finding it easy. The atmosphere and strongest points of the show are all present. The great artwork helps as well, Moline getting the characters just right. This is shown when old stars of the TV show appear and don't need to be introduced for you to know exactly who they are. It's a brave move that's carried off well.
The bonus story here, by comic guru and TV writer Jeph Loeb, takes Buffy back to school through some wonderfully Buffy-esque mojo. This gives Loeb the chance to have fun with all the original characters and tell a fun story at the same time. Once again the art, something entirely different, is great and adds another layer to the storytelling, as well as being perfect for the subject matter.
As you may have gathered, I'm a Buffy fan of old, but I would also recommend this series to anyone new to the world of the slayer. Whedon has developed his comic writing skills over time and now crafts a lean, gripping tale in this medium just as effectively as in TV or film.
If you enjoy comics with action, lots of emotion and lots of laughs, this is well worth a read.