He found the bum note midway through Prelude in C. The high E rattled and the passengers were giving him funny looks as they strode past. He gave up before the cadenza and lifted the lid off the piano. He didn't believe any of the old pianos in St. Pancras had ever been serviced, though the tuning wasn't bad.
He dug around in search of a snapped string and his fingers emerged with a piece of paper trapped between them. He dropped it onto the lid as he closed it and finished the piece. He received a desultory round of applause from the few bystanders who'd bothered to wait and smiled weakly before plucking the paper off the piano and looking around for a bin.
As per usual, there were none to be found, so he stuffed it in his pocket and headed for the coffee shop. He went to his usual and gave the pretty girl behind the counter his same lame smile. It wasn't actually a coffee shop, more a book shop that sold coffee, but that suited him just fine.
He only really came in here because of her. He hadn't admitted it until today, but as he rubbed the paper absently in his pocket, he noticed that her eyes seemed to smile at him. He browsed whilst she made his latte, trying not to stare. She glanced up as she set the cup on the counter, and smiled. He flushed, thanked her, then sat out on the concourse and watched the people head to their trains.
The Eurostar came in here so there were people manhandling suitcases and sitting on the floors waiting for their rides to appear. It felt like an airport and he liked that. He liked the transitory nature of the place, the shops and coffee the only lasting thing. And the pianos. There were three and he was here every Tuesday to play them. He liked the pink one best, although the old normal wooden-colour one had a better timbre. The pink just spoke to him, although he couldn't have said exactly why.
Actually, he could. The keys felt right under his fingers. So he could say why, just not so it made sense to anyone else. He sipped his coffee and pondered on what to play next. His hand strayed into his pocket and drew out the paper. He was about to fold it into something tiny and close to square when he realised he could see black ink through it.
He unfolded it, forehead creasing like the paper, and read it.
David
I've heard you playing. You remind me of a young Chopin. Meet me at the pink piano on Thursday at 9pm and we can duet.
There was no signature. There was nothing else, and he read it a good few times to make sure. It could have been left by anyone for anyone.
Only his name was David.
And she'd chosen the pink piano.
He'd already decided it was a she. Maybe it was the curling, graceful font. Maybe it was the way his heart jumped about in his chest when he read it. Or maybe he was just stupid. The dodgy note could have been there for years. Only that E wasn't rattling last week.
He played a couple more songs and spent every second of them staring about him, trying to spot someone who was listening more intently than the rest. He was met with the usual expressions of disinterest, scattered through with those who enjoyed a little music as they made their journey through the station. But none of them had written the note.
He didn't sleep well on Tuesday and even worse on Wednesday. He cursed himself as he headed to work on Thursday morning. He needed to be at his best and the way he felt now, he'd be a wreck by nine. Coffee would have to take the place of sleep, but still it irked him.
This was to be the performance of a lifetime. He didn't know how he knew, but there was no denying it. Something special was going to happen this evening. The note smelt faintly of a plant he didn't know the name of. Smudge marks stained the corners where he'd held it and read it, over and over again. He could feel it in the ink, and the curving, beautiful handwriting. Tonight was going to be special.
He took it easy at work, finding reasons to hide at his desk and do very little. His lunch break stretched into a half hour nap in the canteen and luckily no one noticed. It made him question, as he strolled out of the office at five, why he bothered so much all the other days.
He sniffed and headed for St Pancras. It was insanely busy by the time he got there and he almost followed his usual route through to the tube. He caught himself just in time and turned right into the bookstore. The girl was behind the counter again and her eyebrows rose at the sight of him.
'Hi, wrong day.' She said.
'What?'
She blushed and looked at her hands. 'Sorry, nothing, just, you're usually here on a Tuesday, right?'
He stopped and stared at her. She'd noticed what day he was in? She'd noticed what day he was in. And she thought they had enough of a relationship to call him on it. His cheeks grew pleasantly warm and he shrugged. 'Yeah, I guess so, just couldn't stay away.'
'Oh.' Her cheeks reddened to match his and their eyes remained fixed on one another for a little longer than normal. What was he supposed to say now?
'Uh, can I get a coffee please?'
'Oh, sure, right, of course.'
She turned away like she was relieved to break eye contact and he swore under his breath. How did he get it so wrong?
'So, do you work every day?'
'Oh, no, Monday to Thursday and Saturday now and then. What do you like reading?'
He opened his mouth to explain about his life-long love of Star Trek books and Stephen King and closed it again. There were some things that would never be cool, no matter… his train of thought derailed and headed over the cliff as her hand emerged from behind the counter with the latest Stephen King hard back.
'Sorry, I didn't mean to presume, I just saw you browsing him and this only came in this morning. I just thought you might, you know, like it.'
His mouth flapped like a piano lid in the cabaret and he nodded. 'Yeah, I mean, that's really thoughtful, thanks.'
Once he'd collected his thoughts and decided that her smile was more than just pretty, the conversation began to flow. It was only a pointed cough from her colleague behind the desk that got her back to serving customers. The time between then and nine went in a flash and he surprised himself with how reluctant he was to head out of the shop.
It was only as he stepped out and saw someone approaching the piano that his heart twisted and he remembered why he was there. His footsteps slowed as he neared the stool and he swallowed down the lump that had appeared in his throat.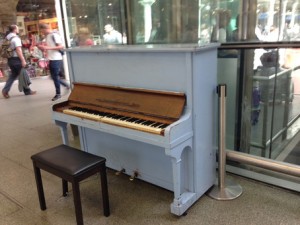 She didn't turn around, only patted the seat beside her, and he sat before he knew what he was doing. She turned and smiled and every other person in the station disappeared. Her eyes were almost as dark as her hair and both looked like they came from another planet. Her face was the sort of thin that should have looked skinny but looked classical instead. Her lips, though, he couldn't take his eyes off. Pale skin and black hair, but her lips were the red of roses just gone over and curved like the devil's promises.
They smiled at him, revealing perfect white teeth. Her voice made every muscle in his body tense.
'David. You came. How sweet.'
'What's your name?'
'Call me Cupid.'
It sounded so stupid, but coming from her it was poetry. He opened his mouth and she laid a finger across his lips. 'Talk to me with your fingers.'
He rested his hands on the keyboard and was about to ask her what to play when his fingers began to move. It wasn't a song he knew. It wasn't a song at all. It was a sketch, of rainy days seen through dusty windows, and longing so deep it stopped you from ever seeing the sun. The music came from a soul he hadn't known he owned, and emerged from the piano like the ghost of a heartbreak he didn't remember.
Then Cupid joined in. She played a counter-melody, as though she already knew what he was going to play and had learnt the accompaniment. They were only seconds in when he realised he'd never remember it. This was the only time he would ever hear this song and at the thought, tears streamed down his face.
He slowed, desperate to make it last, but the music stole his control and he made the piano shake and his heart hammer in his chest. Beside him, Cupid swayed back and forth, her hip pressing into his. He gasped, each breath trapped within him until he reached the end of a phrase and could breathe for one brief moment before diving back in.
As the music came to an end, the passion faded and he played the last few bars with something close to despair. Was this how it felt when Mozart wrote the Fifth? There was nothing better to come. This was the pinnacle of what he would ever achieve on the piano.
He finished with a descending scale, played more gently than his fingers knew how, each note singing up to the glass roof high above. Then it was over and the tears came again.
Cupid rested her head on his shoulder and sighed. 'Thank you, David, that was lovely.'
He choked back the tears and swallowed. 'Who are you?'
'I play the piano.'
'But who are you?'
'You must be tired, why don't you get a coffee? See you around.'
She skipped off the stool and disappeared into the crush. That was when David saw the crowd. He was surrounded by people watching, staring at him, all the way to the shop fronts on either side. They weren't clapping, not yet, but as Cupid vanished between them, the applause began. It bounced off the glass until he was deafened and clapped his hands over his ears.
Finally he rose, bowed as though he could take any credit for what he'd just done, and pushed his way through the crowd. She was gone.
He returned to the piano and sat on the stool. He put his fingers to the keys, but nothing came out. He tried again, but the most he could manage was a few chords. There was no pulse, no rhythm. There was no music. Nothing could be music after what he'd just played. After what they'd just played.
He stood and walked to the front of the coffee shop. She was finishing her shift at ten. He could wait. He stared through the glass at the books, seeing none of the titles, then shook his head and went home.
The following Thursday, David was sat at the piano. It was nine thirty and Cupid wasn't coming. The girl in the coffee shop was watching him. What was he supposed to say? That he'd made a terrible mistake? That the woman of his dreams was testing him to make sure he was loyal?
He plunked a few notes, but he felt like a fraud. There was no music there, not anymore. The girl in the coffee shop had a nice smile. There was music in that, of a sort, but he didn't know how to play it. He couldn't find the melody. He sniffed, closed the lid, and went home.
There are stories now. If you get talking to one of the guards, or the man at the ticket office, they'll tell you about him.
He used to wear a suit, they'll say. Then he changed it for jeans and t-shirt. He's worn the same clothes for years now, so they're threadbare and coming apart at the seams. He doesn't buy coffee anymore, but on the good days, someone buys some for him and he sits at the piano and takes hours to drink it. When closing time comes, someone kicks him out and he'll slouch onto the streets.
They say he used to play. He was one of the good ones. He doesn't play anymore. Someone asked him, a while back, what happened. He said he forgot how to play. 'What happened?' they asked. 'I fell in love' was his response. Then he glanced at the book shop in the corner and shrugged.
He's probably there now, sitting at the pink piano and staring at something only he can see. They say that if you wait long enough and the passengers are quiet enough, you can hear music when he's there. That's what they say.