'The Avengers meets Magician, The Planets series is superhero conflict on a global scale…'
~~~~~~~~~~~~~~~~~~~~~~~~~~~~~~~~~~~~~~~~~~~~~~~~~~~~~~~~~~~~~~~~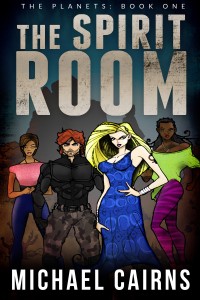 The Spirit Room
Series: The Planets, Book One
Genre: Superhero, Science Fiction, Adventure
Available formats: ebook, Print
An ancient cadre of magicians, A select team of extra-ordinary warriors, An unseen foe
As two ancient forces battle for control, reality as we know it is being torn apart. Caught somewhere in the middle, and tasked with ridding the world of the insidious alien intelligence are The Planets. Neptune hails from Rio, the gay daughter of strict catholic parents. Mars, from Ireland, still missing the sister he lost years ago. Uri grew up on the streets of New York, and Venus… well, no one knows and she isn't telling. Imbued with extra-ordinary powers, these highly trained individuals take the fight across the globe. With startling and unnerving revelations at every turn, the depth of deception is only now becoming clear…
Kobo   Amazon.co.uk   Amazon.com   Smashwords
~~~~~~~~~~~~~~~~~~~~~~~~~~~~~~~~~~~~~~~~~~~~~~~~~~~~~~~~~~~~~~~~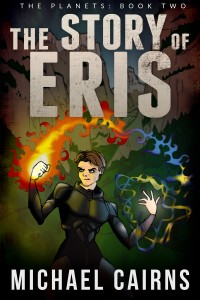 The Story of Eris
Series: The Planets, Book Two
Genre: Superhero, Science Fiction, Adventure
Available formats: ebook,
New York is awash with murders. While the Planets race against time to stop the impending bloodbath, Eris travels to Africa to discover the secret behind his powers. But even he isn't prepared for what he finds there.
The Story of Eris takes the Planets from New York to the European country of Shalktenstein, via the streets of France and the wilds of Russia. On the way they battle The Unseen's latest creations and uncover a future they couldn't hope to predict, or prepare for.
Will Eris get control of his powers in time to meet the challenges that lie before him? Will the Planets find mystery murderer before it's too late? And will any of them be ready for what lies at the heart of Shalktenstein?
The fight continues in this, the second book in the Planets series.
Kobo   Amazon.co.uk   Smashwords     Amazon.com
~~~~~~~~~~~~~~~~~~~~~~~~~~~~~~~~~~~~~~~~~~~~~~~~~~~~~~~~~~~~~~~~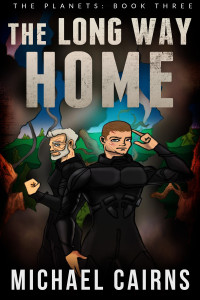 The Long Way Home
Series: The Planets, Book Three
Genre: Superhero, Science Fiction, Adventure
Available formats: ebook,
The Gate is Open
Earth is Under Siege
The War has Begun
Whilst Eris and Jupiter remain on Earth to fight the invaders, the rest of the Planets have travelled through the gate to Halcin, home to the Unseen.
Their aim: To take the fight to the aliens and end the war before it begins.
But nothing is ever that simple.
An old friend makes a reappearance and a new enemy raises the stakes, and all the while, time is running out for the people of Earth.
With the fate of the human race in the balance, the Planets must succeed. Failure means nothing less than the annihilation of everything they know and love. But first, they have to get home, before there is nothing left to return to.