Welcome to Cairns Writes, home of Science-Fiction, Fantasy and Horror author, Michael Cairns.
Breaking News (October 2017): Michael's recently been interviewed by the brilliant Harry Scott, Author and Guardian columnist. Check it out here
There are currently five series' available for your reading pleasure: The links below will take you to Amazon, but you can find all of these books on Barnes and Noble, iBooks, Kobo and Smashwords.
Thirteen Roses – A Paranormal Zombie Saga
Ninja Zombie Killers – A Comedy Horror Rock and Roll Odyssey
The Assassin's Song – A Dark Fantasy Series
A Game of War – A Fast-Paced Sci-Fi Adventure
The Planets – A Modern-Day-Superhero Sci-Fi Series
Thirteen Roses – A Seven Book Series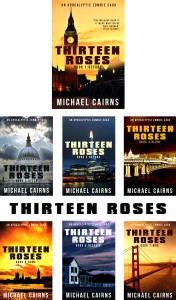 The flower seller sets up his stall on Embankment every day. Every day, he will serve only one customer. That person will be on the edge, teetering between heaven and hell, and it is up to him to steer them in the right direction.
But this week, it will be different. Because this week, someone is screwing with the flower seller. While he struggles to figure out who it is, and why they are doing it, something far bigger is occurring, something that will change the world forever.
A plague is about to strike mankind that will reduce them to mindless zombies, bent on nothing more than the regular consumption of flesh. The flower seller is charged with the task of saving humanity, a task he neither wants, nor cares about.
Without him, mankind is doomed. With him, they might just be worse.
But who is the flower seller? Why does he try to save the subjects? And how the hell is he going to save the world?
The Complete Thirteen Roses collects all seven books in the series, from the very first sniff of something bloody and undead on the streets of London, to the apocalyptic climax. Follow Luke, Bayleigh, Krystal, Jackson and the rest as they 'enjoy' the worst, and best, year of their lives. And kill zombies.
Ninja Zombie Killers – Five books so far in an ongoing series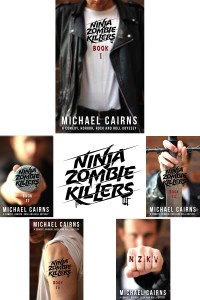 In the beginning there was Dave.
Then came rock and roll.
Then came zombies in bad wedding suits, vampires in bad 80s cars, holiday camps, mysterious spell books, undead fathers of the brides, service station hot chocolates, grumpy singers, ninja drummers and an endlessly patient girlfriend.
Only, she's not so patient anymore. Because Dave's been chosen to save the world, and if there's one thing more annoying than a boyfriend who gets home at five every morning, it's one with a bloated sense of his own importance and a knife fetish.
And then there's Lilith. She's been born more times than she can remember. She also happens to be dangerously cute and, as if that wasn't bad enough, the girl's got serious pipes.
So Dave, Tom (the grumpy singer), Darren (the ninja drummer), and Lilith (mysterious hot witchy lady), have their work cut out for them. Now if they only knew who wanted to end the world, things would be so much simpler.
Ninja Zombie Killers is what would happen if Buffy grew up, grew a pair, moved to London and learnt to rock.
The Assassin's Song – A Trilogy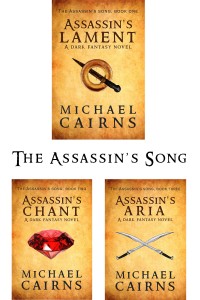 Aryan was born to a whore and spent his childhood hiding from her fists round at Darryl's house. All his life he wished something would change, something would happen. When the Night of Blood came, he discovered the danger of wishing for anything too hard.
Nowadays, Aryan travels the continent, searching for a myth only fools still believe in. Darryl's still around and they've been joined by Tast, an actor in a world without stages. Then there's Lissa, but the less said about her, the better.
His search might not be so difficult, if it weren't for the curse. But the Wildlands are controlled by the walkers, and only fools leave the safety of the city walls. But sometimes it takes a fool to see what others are too scared to. Just like it takes an assassin to do what others can't, or won't…
Assassin's Lament is a coming of age story mixed up with a dash of romance, a hefty chunk of tragedy, and plenty of action. Cue swords, zombies, kingdoms, assassins, war, blood, and guilt. Plenty of guilt.
A Game of War – Seasons One and Two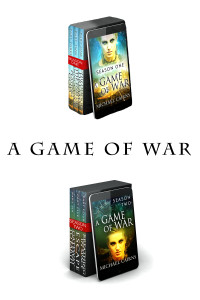 Ally flies and dad shoots. She's got a gift for flying, always has, even before she joined the Game. The Game? A weekly contest between slaves, winner takes all, losers get to walk home, assuming they survive that is. The slaves are owned by The Lords, aliens with more to hide than anyone realises Season one takes Ally from her first flight all the way to a fight to the death. Along the way she falls in love, grieves, discovers things about herself she could never have imagined, and flies like you wouldn't believe. Season one collects the first three episodes of the A Game of War series, Childhood Dreams, The End of Innocence and Playing God
"…Superb characters and fantastic action in a wonderfully original setting…Cairns's vision and his ability to bring it to life is as wondrous as the story he tells! You won't be disappointed!" – 5* Amazon Reviewer
The Planets – Three books so far of an ongoing series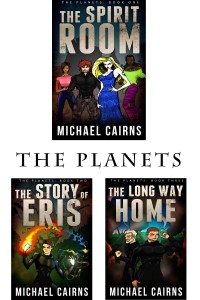 The Avengers meets Magician, The Planets Series is superhero conflict on a global scale…
An ancient cadre of magicians
A select team of extra-ordinary warriors
An unseen foe
As two ancient forces battle for control, reality as we know it is being torn apart. Caught somewhere in the middle, and tasked with ridding the world of the insidious alien intelligence are The Planets. Neptune hails from Rio, the gay daughter of strict catholic parents. Mars, from Ireland, still missing the sister he lost years ago. Uri grew up on the streets of New York, and Venus… well, no one knows and she isn't telling. Imbued with extra-ordinary powers, these highly trained individuals take the fight across the globe. With startling and unnerving revelations at every turn, the depth of deception is only now becoming clear…